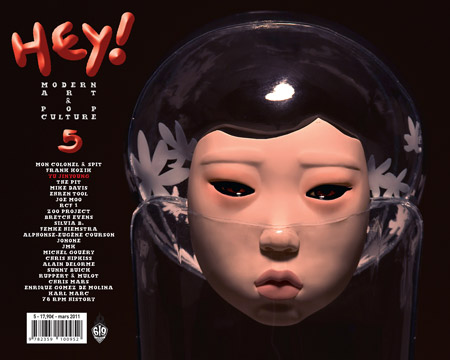 Et voila, c'est pour demain ! Le numéro 5 de Hey! sort enfin en librairie. J'adoooore cette couverture qui reprend une photo de The Disguised (2009) une œuvre de l'artiste coréenne Yu Jinyoung.
Au programme de ce nouveau numéro : Mon Colonel & Spit, Frank Kozik, The Pit, Ehren Tool, Joe Moo, RCF1, Zoo Project, Bretch Evens, Silvia B., Femke Hiemstra, Alphonse-Eugène Courson, Jonone, JMK, Michel Gouéry, Chris Hipkiss, Alain Delorme, Sunny Buick, Rupert & Mulot, Chris Mars, Enrique Gomez De Molina, Karl Marc, 78 RPM. C'est pas beau ca ?
Hey! La revue d'Art pointue et accessible, éclectique et dynamique. Bref, la revue qui dépoussière le monde des publications artistiques. Le 10 mars 2011 en librairie !
ATTENTION ! Pour fêter ses 1 an, l'équipe de Hey ! Modern Art & Pop Culture vous donne rendez-vous au Lazydog (Paris) le 18 mars (18h / 20h) pour des dédicaces, des goodies et des surprises surprenantes 😉